Overnight guests enjoy daycare throughout the day, then have their own indoor/outdoor suites with a dog door to relax and rejuvenate at nap- and bed-time. The sizes of our suites vary from 24 sq ft to 40 sq ft depending on the size of the family.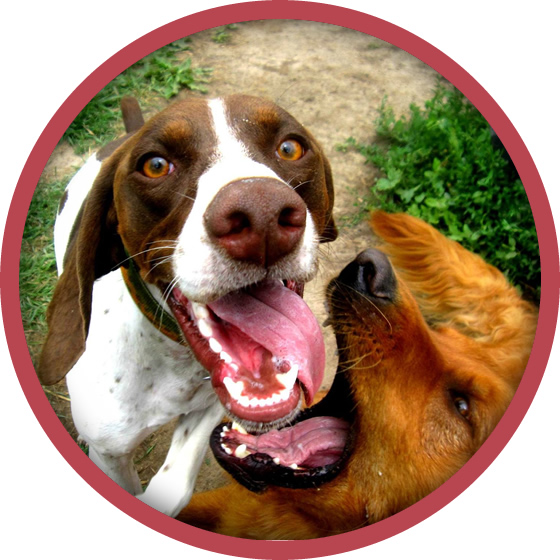 Regular Rates:
1 Dog $35/night
2 Dogs- $66.50 ($33.25 each)
3 Dogs- $95.55 ($31.85 each)
4 Dogs- $121.80 ($30.45 each)
Discounted Rates:
Discounts only apply when sharing a suite
Luxury Suites (Separate room with larger suites with TV & heated floors:
1 Dog- $55/night
2 Dogs- $99/night
3 Dogs- $132 + $40 for each additional dog
What to Bring:
When staying over night, please be sure to bring the following items with you.
Vaccination records including bordetella, distemper, parvo and rabies.
Pet registration form which you can download right here or fill in when you check-in for the first time.
Food that your dog normally eats. No need to bring a bowl…we've got plenty.
A bed or something that smells like home( like a blanket or pillow). We'll provide a blanket if you don't want to bring one.
In order to avoid paying medication administration fee, please bring something for pills to be given in, or we have Pill Pockets for purchase. Also, please don't pack rawhide bones or fragile food bowls.
Notice:
Discounts only apply when the family stays in the same suite. 5% Discount to Military, Fire, Police & Loyalty Clients (Loyal since 2011). Daycare charge only applies to boarding if picked up after noon. For cancellations, a 72 Hour notice is required. Cancellation Policy: $45. *Late Fee-$1 per minute after hours*